Top 5 Hill Stations in Kerala
Who doesn't like going up a hill. Be it a solo trip or a family trip hiking on a trail is always worth the adventure isn't it. Today we have put together a list of 5 hill stations to visit for all of you adrenaline junkies.
Munnar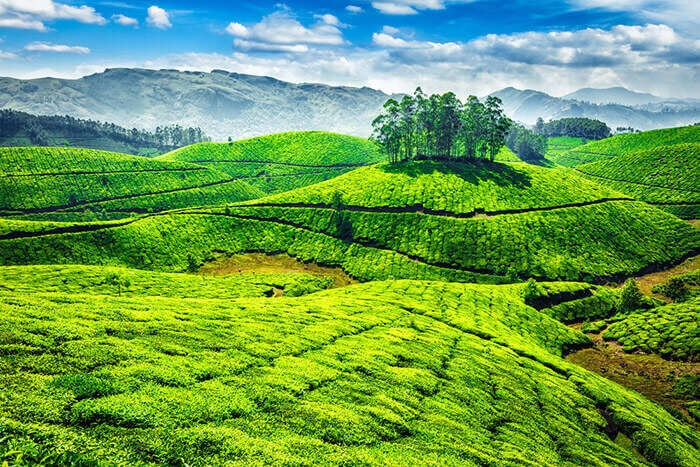 Known as the "Kashmir of south India" ,Munnar is one of the most popular hill station in Kerala .It is situated around 1600 metres(5200 ft) above the sea level .Neelakurinji which blooms only once in 12 years is one of the main attractions of Munnar and the Neelgiri Tahrs (stocky goats ) are another attraction.Munnar is one the most enchanting hill station in Kerala.The terrain is rocky and tea plantation is stretched for miles.Munnar is rich in wildlife such as tiger, leopard, and golden Jackal.Munnar is a place of luxurious hotels and resorts, however you can find a place to stay which fits in your pocket.
Wayanad
Best known for the wildlife reserves,Wayanad is home to a wide variety of flora and fauna .It has various wildlife resources such as elephants, leopards, and bears. Wayand is also famous for its spice plantations.The Banasura sagar dam, Edakkal caves, Kuruva Island and Chembra peak are must visit places in Wayanad.Wayanad has untouched woods, misty mountains and long spread plantations.You can also find ancient architecture and religious beliefs through the monuments like Thirunelli temple ,ancient jain temple and much more .
Vagamon
Vagamon is one of the green spots in Kerala, situated 1200 metres above the sea level.The Thangal para ,Indo Swiss project and kurisumala Ashram,are must visit places in Vagamon.The hill station has 3 beautiful hills called Thangal hill,Murugan hill and Kurisumala ,Vagamon offers space for spiritual activities tools it is an ideal place for meditation.Best time to visit Vagamon is March to May.It also have the Maramala waterfalls which is one another attraction
Thekkady
Situated in the Kerala-Tamil Nadu border,Thekkady is famous for its grass lands which are evergreen,semi evergreen and savanna.The Periyar wildlife sanctuary in Thekkady is one of the major attraction here ,its spread across 777 km square forest which was declared as tiger reserve in 1978.It has varieties of wildlife such as wild elephants, deer and bison.Thekkady is rich in natural species such as black paper ,cardamom, cinnamon ,nutmeg, ginger and clover.
Athirapilly
Athirapilly falls is situated at the entrance to the sholayar ranges of the Western Ghats.It has a combination of forests and little streams.The most famous Athirappilly water falls is situated here, which is approximately 80 feet high.There are few other waterfalls like vazhachal falls.Athirapilly is situated in Thrissur district in Kerala.Also it has been declared it as an important bird area by international bird association.The jungle safari through the evergreen forest of sholayar ranges of western ghats is a memorable experience one can have in a Kerala visit.